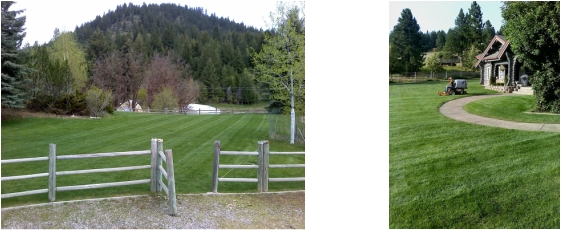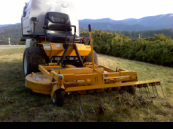 Lawn Mowing
We use Walker brand mowers, one of the best designed mowers on the market today.
• Free floating decks that almost eliminate scalping of your lawn.
• Wide tires that distribute the weight better for less impact on the turf.
• A powerful grass handling system to vacuum up grass clippings for a cleaner look.
• Mower blades are sharpened a min. of once every 3 days to ensure a proper cut.
---
---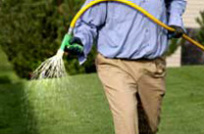 Fertilizing & Weed Control
Few things can ruin the look of your lawn faster than weeds and/or fungal diseases such as necrotic ring spot. We combat these common lawn problems by using a customized treatment plan for your lawn's specific needs.

We can also create a customized fertilizing plan, using seasonal specific fertilizers, to insure that your lawn stays lush and green throughout the summer season. The saying is true "the best defense against weeds is a healthy lawn".

Organic fertilizer is available upon request.
---
---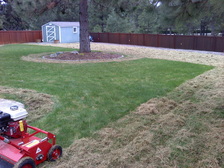 De-Thatching
De-thatching is one of the best ways to get your lawn ready for the year.

Because of the winters we experienced in the northwest, there is a lot of dead grass, pine needles, and debris left from winter sitting on the surface of our lawns . Removing this layer of debris from your lawn enables your lawn to fill in sparse areas with new growth and reduces the chance of lawn damaging fungus feeding on the decaying matter. Resulting in a healthier and greener lawn.

---
---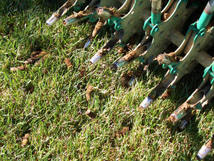 Core Aeration
Aerating your lawn is a great way to help your grass if you have compact soil and or moss.

Generally the months of April or May are when you should have your lawn aerated. The wet, cool temperatures of these months promote vigorous growth allowing the lawn to recover quickly. Aerating serves a completely different function than lawn de-thatching. Aerating removes small plugs from your turf, better enabling oxygen and fertilizers to reach the root system of the grass. Promoting new, deeper growth of the root system.
---