Cutting the Green specializes in hazardous tree removal. If you have a tree that needs to come down but is in a confined space we can remove it without damaging your property.


Thinning of the lower limbs on healthy trees reduces the number of pine needles and leaves that you will have to rake up year round. Thinning also allows more sunlight and water to reach the lawn below.

It is also a great way to open up views that have been growing closed over time. It could even increase the value of your property!

---

Fruit Tree Pruning
We can prune your fruit trees so that they will keep producing large fruit longer.
Proper pruning during the first 3 years of your fruit trees life will optimize the productivity
of the tree for years to come.


---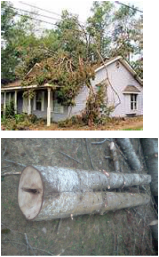 Having a tree fall on your house is one of those things that you think "
Oh that will never happen to me
." However recognizing potential problems or defects in trees isn't always an easy task. Help prevent it from happening by having us come out for free and give you a risk analysis for the trees surrounding your house or business.
If we find a hazardous tree you normally have several options:
You could have it trimmed and thinned reducing the number of wind catching branches.
Some trees are able to be cabled to themselves or other trees. Cabling is a good way of adding an extra measure of reassurance. Cabling both static and dynamic (dynamic cabling described in the paragraph below) reduce the chance of failure during increased loads such as (snow, ice, high winds).
You could also have it removed, eliminating the risk to your property.
---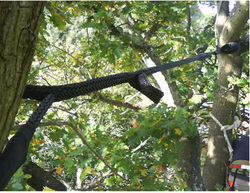 Cutting the Green provides the modern Dynamic cabling method where needed. This is most commonly used to minimize the risk of failure at "V crotches" in deciduous trees. Dynamic cabling allows limbs a natural freedom to exercise while allowing for reaction wood to form. The tree is able to strengthen weak areas while the cable is ultimately limiting its movement. Since this application does not require any drilling into the wood, possibly exposing the tree to other risks, this method of cabling is ideal for aging and high-value trees.
---